Are you having doubts about choosing a retro handheld game console? Do you require information about specs, battery life, and game support on different game console models?
If so, I have written this article to tell you about some of the best retro game console handheld models that I think are worth your money. Take a look at the ones I chose in the following section.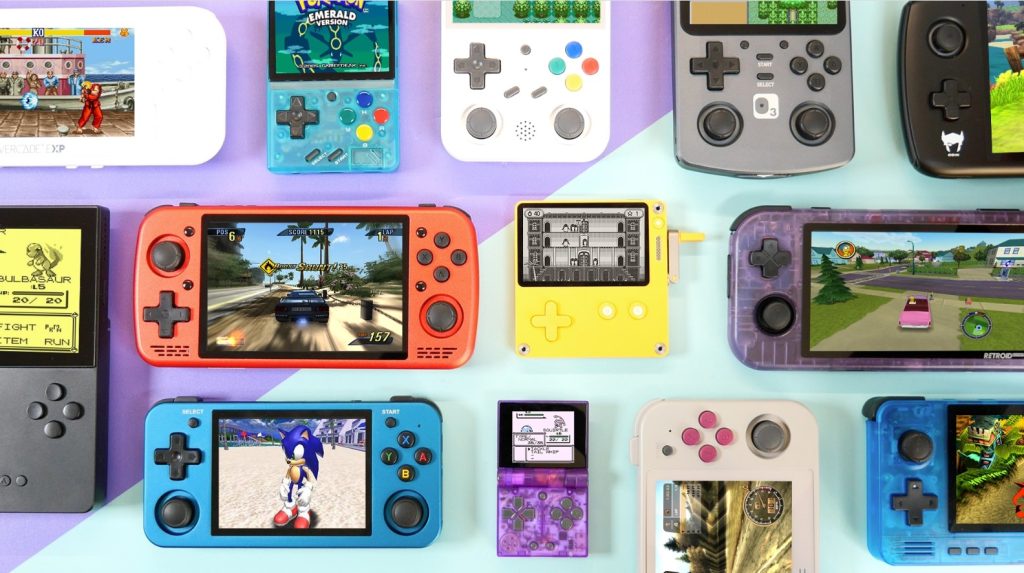 Best Retro Game Console Handheld Models
Retro game consoles are making a comeback, and handheld consoles are sought after more and more each day. There are dozens of retro handheld consoles to choose from; these are the best four you can purchase today:
Retroid Pocket 2+
Anbernic RG351V
Evercade
Nintendo DS Lite
I've made this list of retro handheld consoles as a mix of game variety, specs, and price, so that by the end of the article, you will know which console to choose.
Consoles Overview
Retroid Pocket 2+
The Retroid Pocket 2+ is among the best handheld retro game consoles with excellent reception that you can get your hands on. It's an upgraded version of the Retroid Pocket, packing a lot more power, better ergonomics, and improved battery life.
This handheld console has a 3.5-inch, 4:3 display. The console runs on the Android 9 operating system and is very easy to maneuver around the menus because of the touchscreen controls.
The design of the Retroid Pocket 2+ is simple yet ergonomic and comes in several different color varieties like gray, black, white, or indigo.
Regarding technical specs, the Retroid Pocket 2+ has a Quad-core Tiger T310 processor, 2 GB of RAM, and 32 GB of internal storage.
The battery capacity is 4000 mAh, providing hours of gameplay. The integrated motor provides excellent vibration feedback, similar to the DualShock controllers on PlayStation consoles.
Game compatibility
As for game compatibility, the Retroid Pocket 2+ can easily emulate numerous retro game platforms because of the powerful processor and available RAM. Those platforms include NES, SNES, Sega, Sega Genesis, Game Boy, Nintendo 64, and even older Sony PlayStation games.
Read more: What Is the Best Atari Game Console?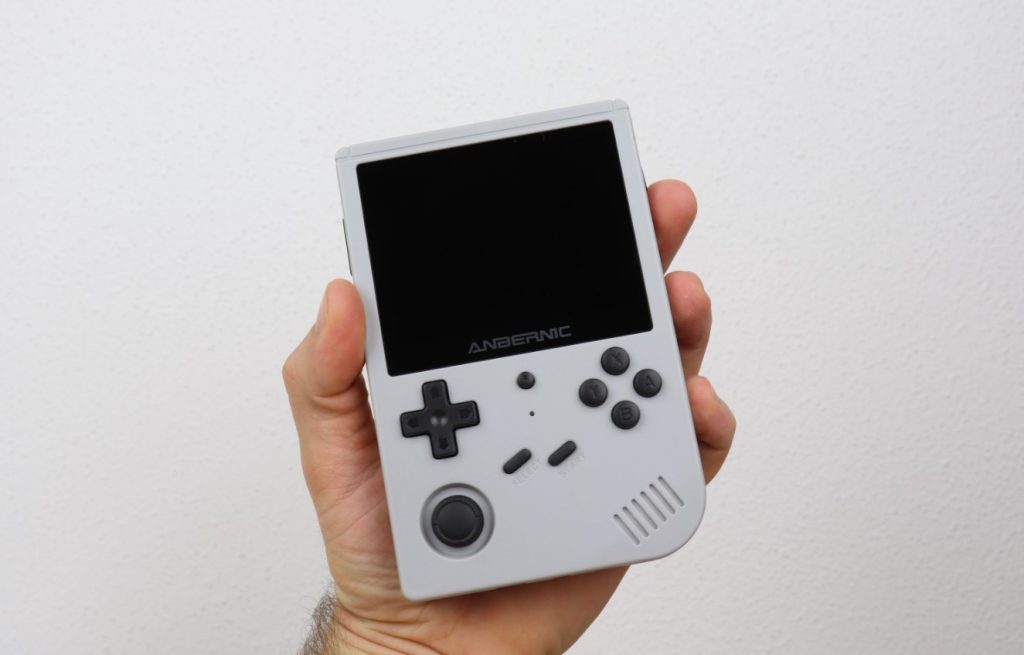 Anbernic RG351V
The Anbernic RG351V is another of the best retro game console handheld models, with a classic "vertical" look and feel.
This console is fitted with a 3.5-inch, 640x480p IPS display. It does not have touchscreen controls, but the screen provides sharp and colorful visuals for its 4:3 aspect ratio.
Since it's a vertical handheld console, the RG351V is portable and small, with dimensions of 14 x 9.4 x 2.7 inches. This makes it easily fit in any pocket, bag, or suitcase.
Internal specifications of the RG351V make it a unique vertical handheld console, with a Rockchip RK3325 processor running at 1.5 GHz of speed. Even though it has only 1 GB of RAM, it is DDR3L and capable of high-speed frequencies.
With a battery of 3900 mAh, this handheld console can deliver up to six hours of non-stop playtime with one charge, depending on the screen brightness and how demanding the game is in terms of graphics.
Game compatibility
The Anbernic RG351V can emulate and play video games that fall within the fifth generation of video game consoles, also known as the 3D era or video games.
This includes platforms like NES, Neo Geo, Super NES, Sega Genesis, Nintendo 64, and even older PlayStation and PlayStation portable titles.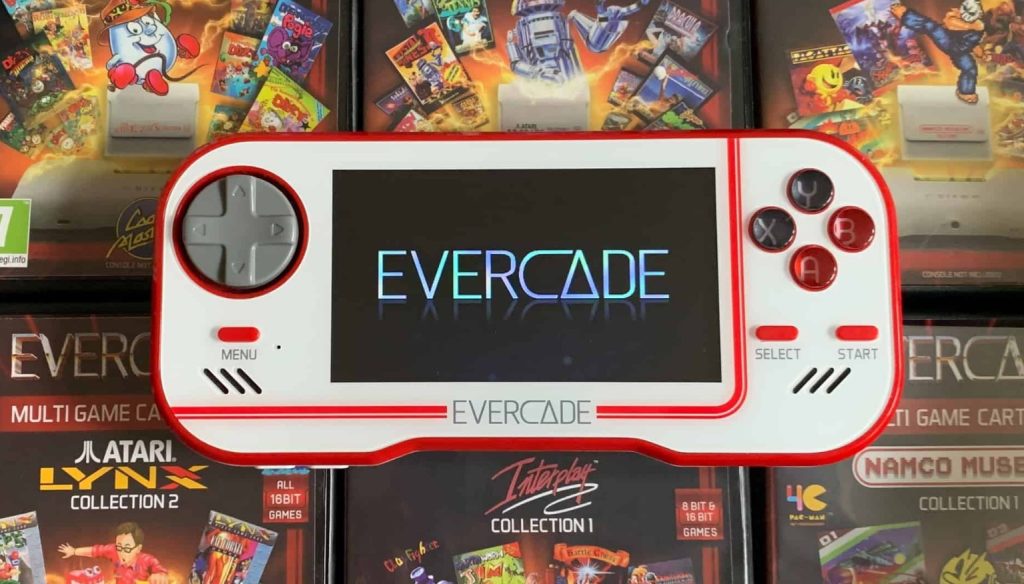 Evercade
The Evercade handheld console is among the best because it only uses cartridges to play games instead of downloadable ROMs. I mention this from the start because if you're used to playing games via custom ROMs, this console might not be your preferred choice.
The console is fitted with a 4.3-inch LCD with a resolution of 480x 272 pixels and an aspect ratio of 16:9. It also has a mini-HDMI-out port, which allows you to play games on the large screen.
As far as ergonomics are concerned, the console fits nicely in the hands. It has a simple design, adequately sized, and tactile buttons with good feedback. It comes in two color varieties, black or white.
The operating system is Linux based and runs on a 1.2 GHz Cortex A7 processor. Even though it only has 256 MB of RAM, it runs all games fine and without lag. The rechargeable battery is 2000 mAh and provides gameplay time between four to five hours.
Game compatibility
Since Evercade uses physical cartridges to play games, each cartridge contains the original developer ROMs of the games. Each cartridge contains 5-20 games from different developers and publishers.
The console can play popular titles developed by NES, SNES, Atari, Neo Geo, Intellivision, and Mega Drive.
Also read: Best Selling Game Console of the 90s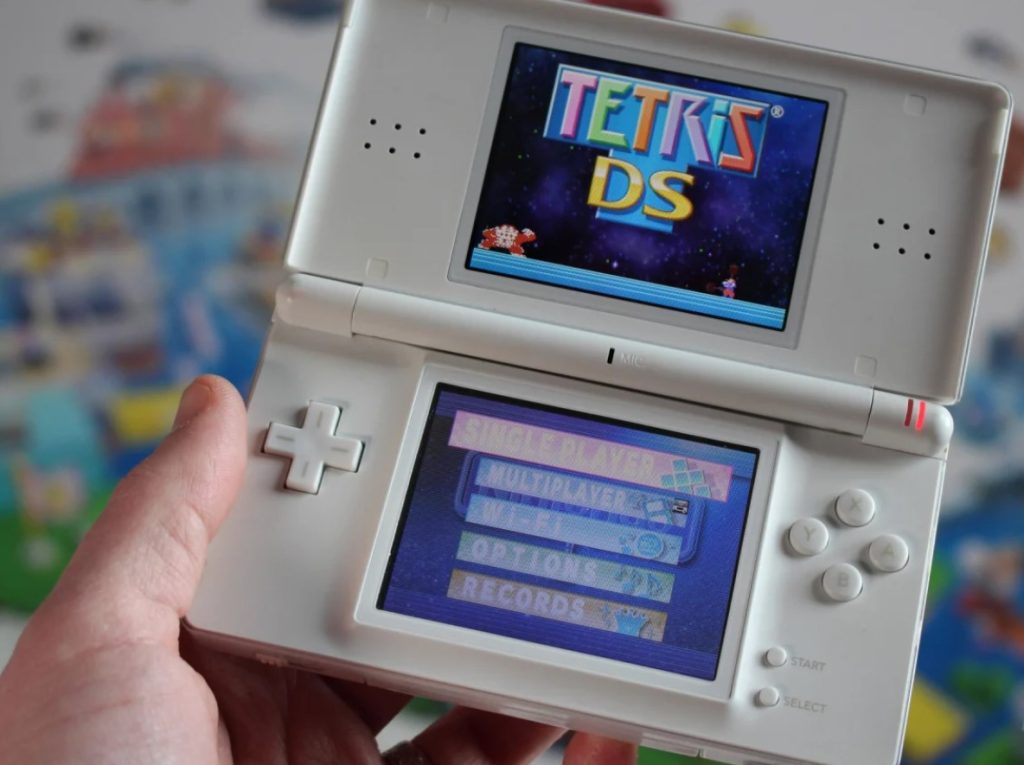 Nintendo DS Lite
If you're looking for a unique handheld retro console, the Nintendo DS Lite might be the one you want. The unusual design makes it feature two screens, and you can fold the unit like a small notebook for convenient carrying.
The Nintendo DS Lite measures 2.91 inches tall, 5.2 inches wide, and 0.85 inches deep. The upper display is a TFT-type LCD with a size of 3.12 inches and a resolution of 256×192 pixels. The lower screen has the same specification, but it also has touchscreen capabilities.
When comparing the internal specs with the other consoles I picked above, the Nintendo DS Lite may look like a fairly weak device.
It has one main and one side processor with 67MHz and 33MHz clock speeds, respectively. This may not sound like much, but it can play many retro games well.
Battery life is extraordinary, as the console can deliver 15-19 hours of gameplay running only on a 1000 mAh battery. You can learn more about the Nintendo DS Lite from the Internet Archive.
Game compatibility
The Nintendo DS Lite plays all games meant and developed for the original Nintendo DS and is also compatible with Game Boy Advance packs and games. Unfortunately, it cannot play original Game Boy games or Game Boy Advance games in multiplayer mode.
Conclusion
Well, those were the best retro game console handheld models. I hope now you can make up your mind and choose the one that suits you.
Have fun and enjoy!