Board games can be extremely fun or frustrating, depending on whether you are winning or not. When the game you choose is Risk, tension can build up, and the time will keep ticking as you lose yourself in the game. But how long does a risk game take exactly?
Risk is one of the most popular online board games that will unlock the strategist in you. Developing a game strategy, beating enemies, and taking their territories, all to end up the victorious ruler of the world, sounds fun.
The online Risk game is fun for families, friend groups, and even online friends with the new versions. Whichever map you decide to conquer, remember one thing, do not make any plans for the rest of the day.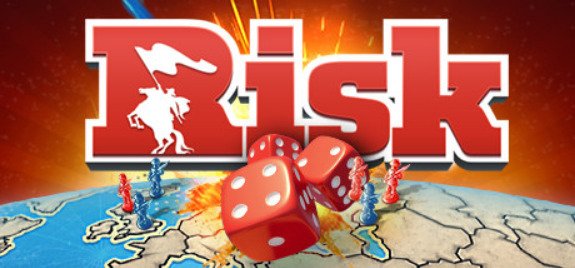 How Long Does a Risk Game Take
The online version of Risk Global Domination involves setting up, developing strategy, and playing and can take from 30 minutes to 2 hours for a 1v1 game. How long the game lasts also depends on the number of players. A risk match with six players can last up to two hours.
Play Risk Global Domination
The classic Risk game is one of the most popular board games out of the 80s. But the original version of the game dates back by a few decades. Called "La Conquête du Monde" (The Conquest of the World), the original first game appeared in France in 1957.
The French film director Albert Lamorisse is the inventor of the original Risk game. In 1959, Parker Brothers (today Hasbro Gaming) bought and released Risk in the US, with some changes to the board game rules.
The first new version released of the Risk board game was in 1986. Hasbro has ever since released many versions of the board game. There are Risk special editions, variations with popular media themes, video games, and mobile versions.
Risk Global Domination is one of the most popular online versions of the board game. Risk Global Domination allows players to engage in strategic warfare with online opponents from all over the world.

Risk Global Domination- the gameplay
Like in the board game version, you must beat your opponent/s and take over their territories to win Risk Global Domination. Players can engage in the online Risk version on mobile and PC.
The gameplay of the online Risk contains the authentic rules of the traditional board game. The online Risk allows players to build larger armies and meet more friends. Players can join or host battles against online opponents.
The online Risk community is incredibly active, meaning you can always find someone to join your team or battle against. Make lifelong friendships while you conquer the world. The online Risk provides players with critical game stats and achievements.
Players may use the Automatch mode, which pits them against opponents of similar rank online. The game allows from two up to six players per match. Depending on the number of players, a match can take five or 20 minutes up to two hours.
The players take turns making their moves, like in the classic Risk board game. Each player has a timer of two minutes to make their move. The game's end goal is to conquer the enemy forces and gain most territories.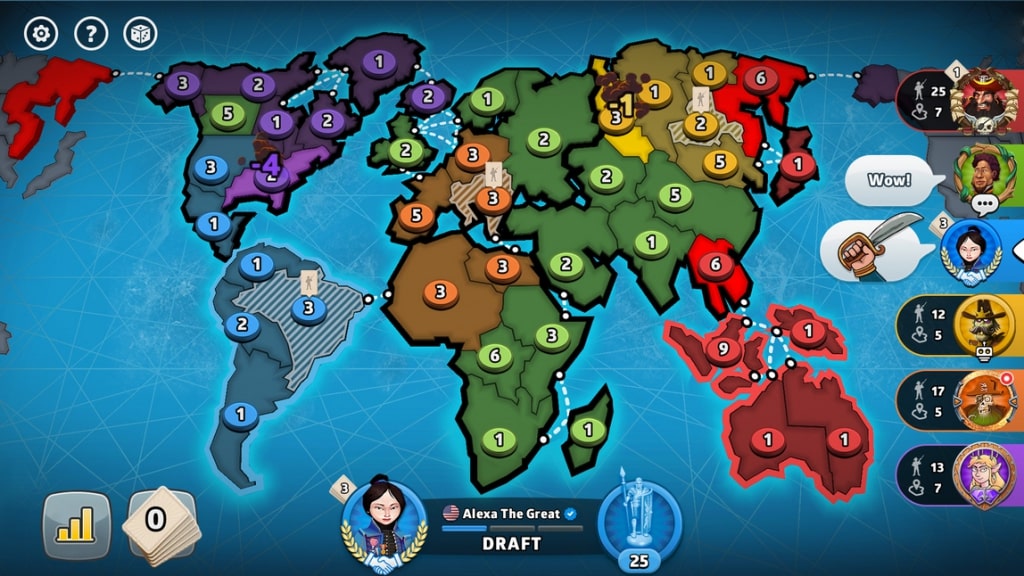 Multiple game modes
Playing Risk online instead of the classic board game also comes with additional benefits. For example, the players can choose the game mode they want to play in. There are many game modes available, including:
Global Domination Online: You can challenge online players to a game.
Single player: You can play Risk against AI/s or watch tutorials to learn the game rules and develop strategies.
Pass & play: This game mode allows two to six players to play Risk online on the same device.
Play friends: You can invite and challenge your friends to an online game of Risk.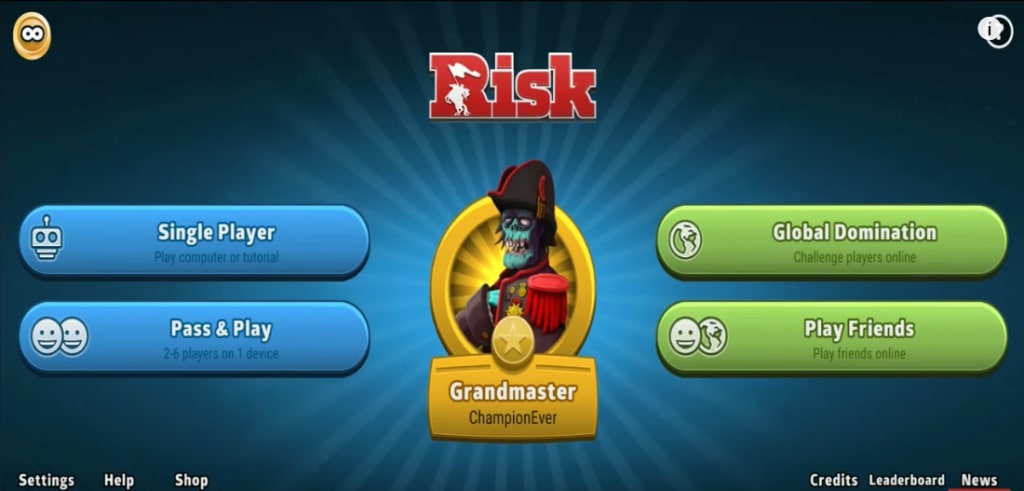 Game features
Playing Risk online helps you make new friends with similar interests. Plus, you can hone your strategic thinking and negotiation skills. Players can engage in friendly competitions filled with adventure and fun times.
Even better, Risk Global Domination has many features that make the game fun for everyone, no matter their skill level.
Each player can start for free with Classic.
A one-time premium purchase allows players to six extra classic and unique maps.
Beginners and every other player get access to 10+ single-player scenarios to develop their skills across various maps.
Five difficulty AI settings for beginners and experienced players.
Beginners can take advantage of the guided tutorial mode and in-game help.
Players can purchase 40+ maps as additional DLC packs.
Custom rules, settings, and game modes include Capitals, blizzards, Fog of War, Limited Turns, 70% control, etc.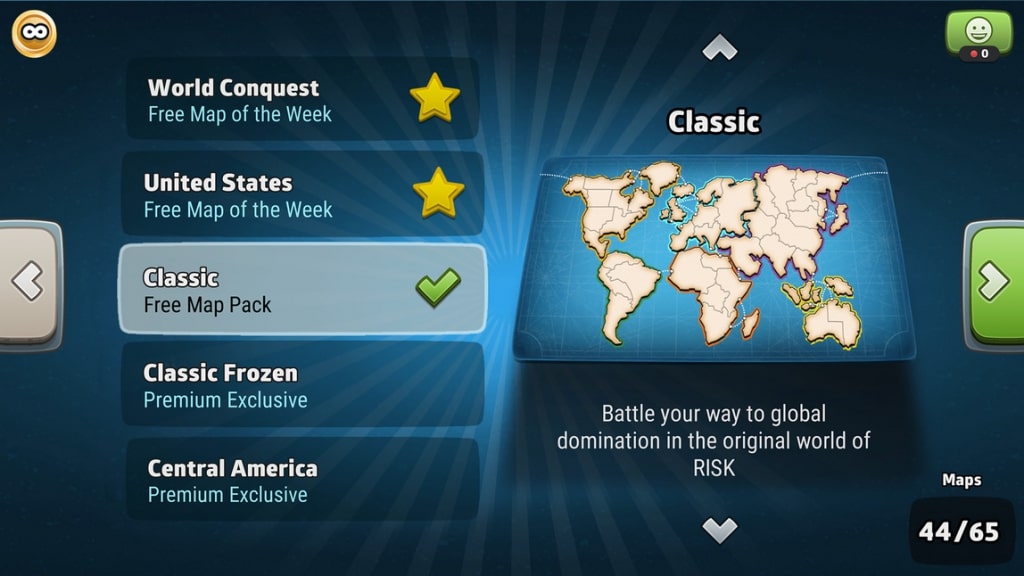 Risk Global Domination: Game Strategy and Tips
Playing Risk online does not mean you will be any less inclined to win. In fact, the online community makes players much more ambitious to achieve high rankings. Players can build armies to defend their territories and fight against enemy forces.
As a player, you can build alliances with other online players to help you win Risk. You can use some of the following tips to lead your troops into a glorious victory on the battlefield.
Follow the tips and strategies outlined below for a more successful game match.
Ensure to form strong alliances.
Grow your troops by getting more territories under your control.
Keep large armies next to enemy lines for quick attacks.
Manage card bonuses strategically. It would be best if you waited longer before turning in your cards. But if you think someone will take you out in the next round, get rid of your cards to live longer.
Try to get continent bonuses.
You should be patient.
Do not trust anyone fully, no matter if they are your allies.
Eliminate players with your card bonuses instead of capturing continents. If the enemy is still alive, they may "suicide" into you to weaken you.
You should study and know the game maps if you want to win Risk and achieve a high ranking.
The most important tip is to have fun and make new friends in the global online community of Risk.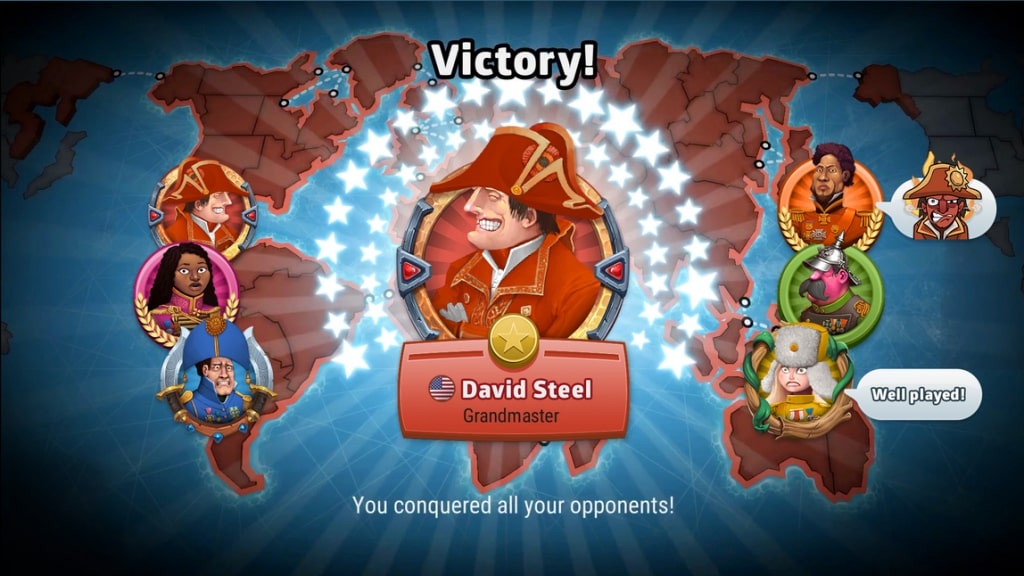 Conclusion
So, how long does a risk game take? Playing Risk online may take anywhere from five minutes up to two hours. The game's duration depends on the number of players and your chosen map.
But one thing is for sure. You will have tons of fun playing with your friends or online players. Get the chance to fine-tune your strategic thinking skills and meet new friends from around the world with Risk Global Domination.